SSH​
SSH is a program that enables secure logins over an insecure network. It encrypts all the data passing both ways, so that if it is intercepted it cannot be read. It also replaces the old an insecure tools like telnet, rlogin, rcp, ftp,etc. SSH is a client-server software. Both machines must have ssh installed for it to work.
We have already installed a ssh server in our machines. You must have installed an ssh client in your local machine. SSH is available without charge for almost all versions of UNIX (including Linux and MacOS X). For UNIX and derivatives, we recommend using the OpenSSH client, downloadable from http://www.openssh.org, and for Windows users we recommend using Putty, a free SSH client that can be downloaded from http://www.putty.org. Otherwise, any client compatible with SSH version 2 can be used. If you want to try a simpler client with multi-tab capabilities, we also recommend using Solar-PuTTY.
This section describes installing, configuring and using PuTTy on Windows machines, as it is the most known Windows SSH client. No matter your client, you will need to specify the following information:
Select SSH as default protocol
Select port 22
Specify the remote machine and username
For example with putty client: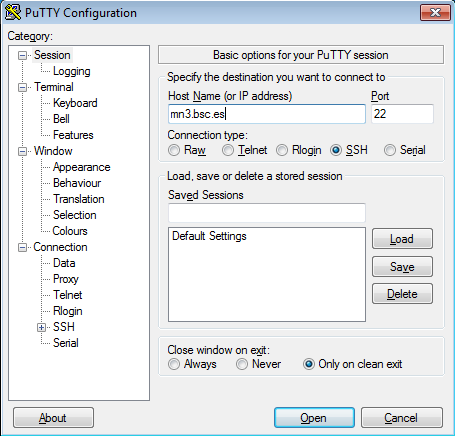 This is the first window that you will see at putty startup. Once finished, press the Open button. If it is your first connection to the machine, your will get a Warning telling you that the host key from the server is unknown, and will ask you if you are agree to cache the new host key, press Yes.
caution
If you see this warning another time and you haven't modified or reinstalled the ssh client, please do not log in, and contact us as soon as possible (see Getting Help.
Finally, a new window will appear asking for your login and password: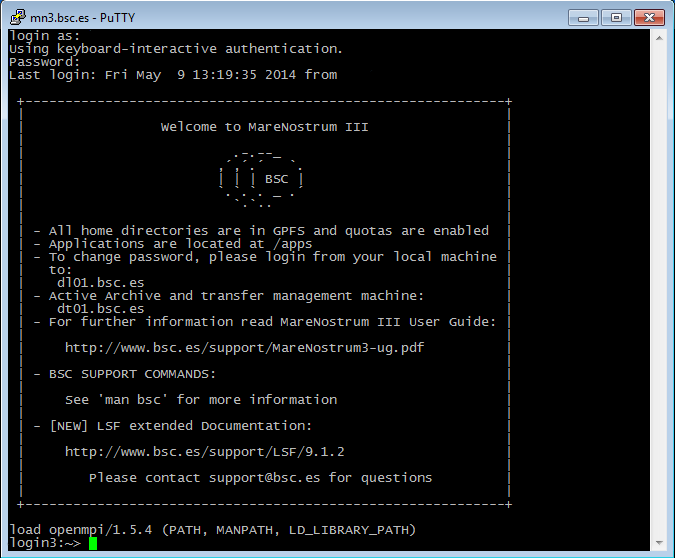 Generating SSH keys with PuTTY​
First of all, open PuTTY Key Generator. You should select Type RSA and 2048 or 4096 bits, then hit the "Generate" button.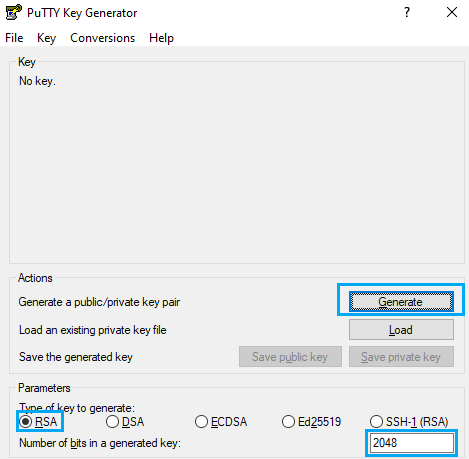 After that, you will have to move the mouse pointer inside the blue rectangle, as in picture: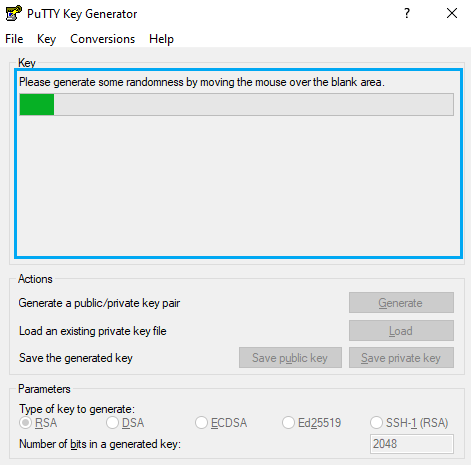 You will find and output similar to the following picture when completed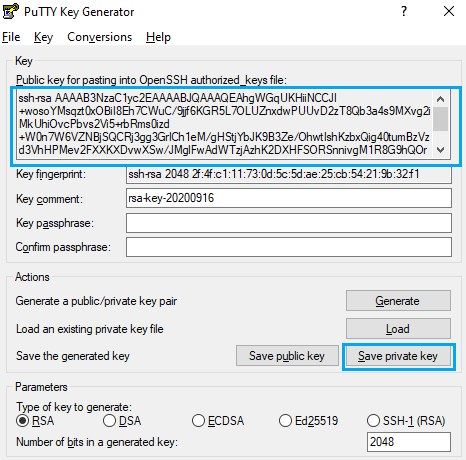 This is your public key, you can copy the text in the upper text box to the notepad and save the file. On the other hand, click on "Save private key" as in the previous picture, then export this file to your desired path.
You can close PuTTY Key Generator and open PuTTY by this time,
To use your recently saved private key go to Connection -> SSH -> Auth, click on Browse... and select the file.