MareNostrum IV (2017) System Architecture
MareNostrum is a supercomputer based on Intel Xeon Platinum processors, Lenovo SD530 Compute Racks, a Linux Operating System and an Intel Omni-Path interconnection.
See below a summary of the general purpose cluster system:
Peak Performance of 11.15 Petaflops
384.75 TB of main memory
3,456 nodes:

2x Intel Xeon Platinum 8160 24C at 2.1 GHz
216 nodes with 12x32 GB DDR4-2667 DIMMS (8GB/core)
3240 nodes with 12x8 GB DDR4-2667 DIMMS (2GB/core)
Interconnection networks:

100Gb Intel Omni-Path Full-Fat Tree
10Gb Ethernet

Operating System: SUSE Linux Enterprise Server 12 SP2
MareNostrum IV user documentation
Compute racks
MareNostrum IV has 48 racks dedicated to calculations. These racks have a total of 165,888 Intel Xeon Platinum cores with a frequency of 2.1 GHz and 384.75 TB of total memory.
In total, each rack has 3,456 cores and 6,912 GB of memory.
The peak performance per rack is 226.80 Tflops, and a peak power consumption of 33.7 kW.
Each Lenovo SD530 compute rack is composed of:
72 Lenovo Stark compute nodes
2 Lenovo G8272 Switches
3 Intel OPA 48 port edge switch
4 32A 3 phase switched and monitored PDUs

Compute node
The compute nodes are based on the last generation Intel Xeon Platinum technology, and they offer high performance, flexibility and power efficiency. You can see below a description of one node:
​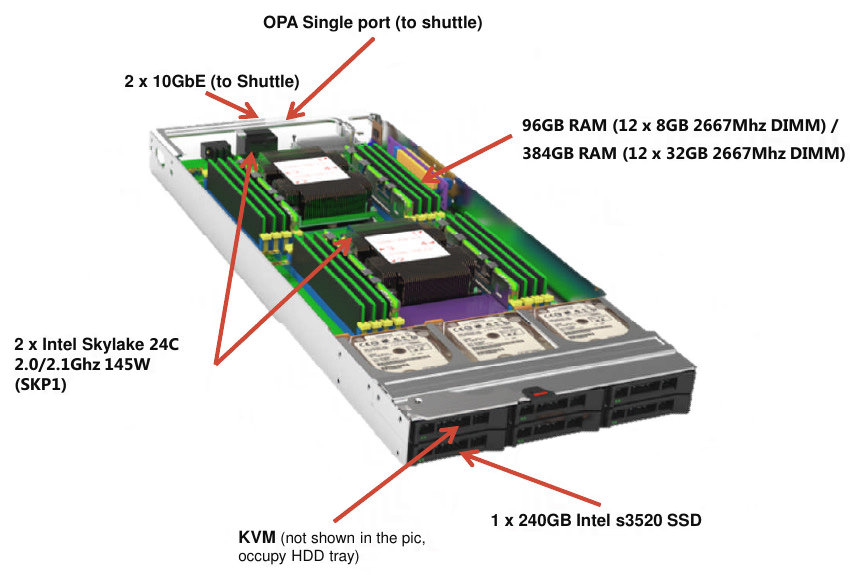 Intel Omni-Path rack
The 3,456 compute nodes are interconnected through a high speed interconnection network: Intel Omni-Path (OPA). The different nodes are interconnected via fibre optic cables and Intel Omni-Path Director Class Switches 100 Series.
Six of the racks in MareNostrum are dedicated to network elements which allow to interconnect the different nodes connected to the OPA network.
The main features for the Omni-Path Director Class Switch are:
Up to 786 x 100GbE ports in 20U (+1U Shelf)
12 x hot swap PSUs (N+N)
Hot swap fan modules
2 x Management modules
8 x Double spine modules (non-blocking)
Up to 24 x 32 port leaf modules (20 occupied – 640 ports)
Each leaf modules contain 2 ASICs
9.4kW power consumption