BSC-CNS hosts MareNostrum, the most powerful supercomputer in Spain. In March 2004 the Spanish government and IBM signed an agreement to build one of the the fastest computer in Europe.
In November 2006 its capacity was increased due to the large demand of scientific projects. MareNostrum increased the calculation capacity until reaching 94.21 Teraflops (94.21 trillions of operations per second), doubling its previous capacity (42.35 Teraflops). It had 4.812 processors and afterwards it had 10.240 processors with a final calculation capacity of 94.21 Teraflops.
With the 2012-2013 upgrade, MareNostrum has a peak performance of 1,1 Petaflops, with 48,896 Intel Sandy Bridge processors in 3,056 nodes, including 84 Xeon Phi 5110P in 42 nodes, with more than 115 TB of main memory and 2 PB of GPFS disk storage.
Nowadays, MareNostrum is a supercomputer based on Intel SandyBridge processors, iDataPlex Compute Racks, a Linux Operating System and an Infiniband interconnection.
Summary of the system:
Peak Performance of 1,1 Petaflops
115.5 TB of main memory
3,056 nodes
Main Nodes

2x Intel SandyBridge-EP E5-2670/1600 20M 8-core at 2.6 GH
128 nodes with 8x16 GB DDR3-1600 DIMMS (8GB/core)
128 nodes with 16x4 GB DDR3-1600 DIMMS (4GB/core)
2752 nodes with 8x4 GB DDR3-1600 DIMMS (2GB/core)

3 PB of disk storage
Xeon Phi Nodes 42 heterogeneous compute nodes

2x Intel SandyBridge-EP E5-2670/1600 20M 8-core at 2.6 GHz
2x Xeon Phi 5110 P
8x8GB DDR3-1600 DIMMS (4GB/core)

Interconnection networks:

Infiniband FDR10
Gigabit Ethernet

Operating System: Linux - SuSe Distribution
MareNostrum has 52 racks and takes up a space of 120m2.
Specific technical characteristics of the main components of the machine:
MareNostrum III has 36 racks dedicated to calculations. These racks have a total of 48,448 Intel SandyBridge cores with a frequency of 2.6 GHz and 94.625 TB of total memory.
In total, each rack has a total of 1,344 cores and 2,688 GB of memory.
The peak performance per rack is 27.95 Tflops, and a peak power consumption of 28.04 kW.
Compute Rack
Each IBM iDataPlex Compute rack is composed of:
84 IBM dx360 M4 compute nodes
4 Mellanox 36-port Managed FDR10 IB Switches
2 BNT RackSwitch G8052F (Management Network)
2 BNT RackSwitch G8052F (GPFS Network)
4 Power Distrbution Units
According to the performance per rack:
2.60 GHz x 8 flops/cycle (AVX) = 20.8 Gflops/core
16 core x 20.8 Gflops/core = 332.8 Gflops/node
84 nodes x 298.64 Gflops/node = 27.95 Tflops/rack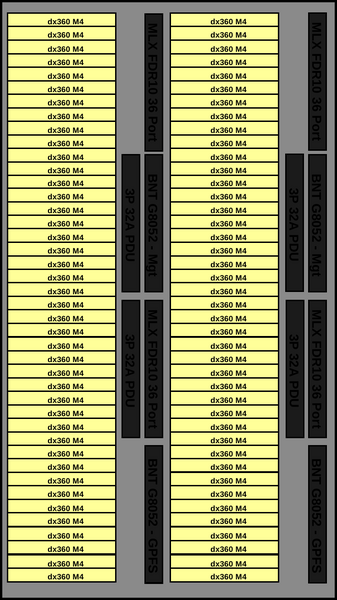 Chassis
dx360 M4 compute nodes are grouped into a 2U Chassis, having two columns of 42 2U Chassis. Each 2U Chassis has two 900W independent power supplies for redundancy purposes. In this way, if one of the supplies fails there is the other one still working.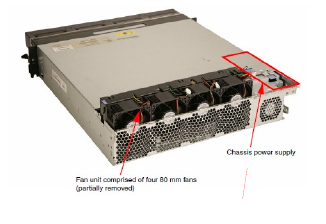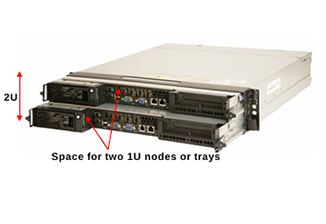 Compute Node
The compute nodes are the last generation of IBM System X servers: iDataPlex dx360 M4. These nodes are based on Intel Xeon (R) technology, and they offer high performance, flexibility and power efficiency.
Each compute node is composed of:
Two 8-core Intel Xeon processors E5-2670 at 2.6 GHz, 20 MB cache memory, with a peak performance of 332.8 Gflops per node.
Eight 4 GB DIMM's, 1.5V DDR3 @ 1600 MHz. Having 32 GB per node and 2 GB per core. In terms of memory bandwidth, this is the best configuration for memory access for Intel E5-26xx EP processors (4 memory channels per chip).
Local hard drive: IBM 500 GB 7.2K 6Gbps NL SATA 3.5.
MPI network card: Mellanox ConnectX-3 Dual Port QDR/FDR10 Mezz Card.
2 Gigabit Ethernet network cards (management network and GPFS).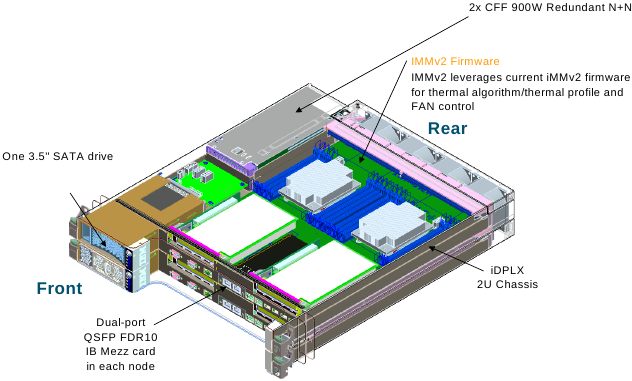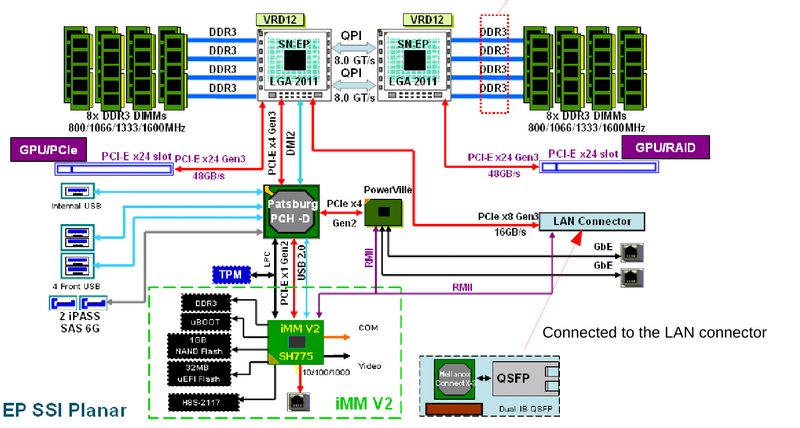 Infiniband Racks
The 3,028 compute nodes are interconnected through a high speed interconnection network: Infiniband FDR10. The different nodes are interconnected via fibre optic cables and Mellanox 648-port FDR10 Infiniband Core Switches.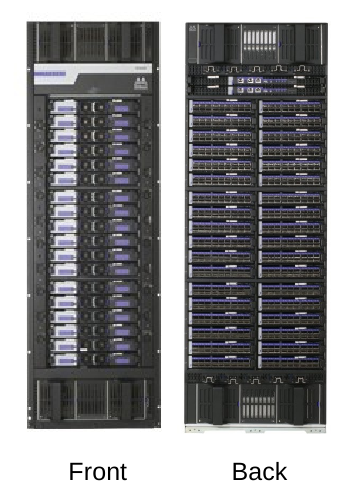 Four of the racks in MareNostrum are dedicated to network elements which allow to interconnect the different nodes connected to the Infiniband network.
The main features for the Mellanox 648-port Infiniband Core Switch are:
100 ns to 300 ns switching latency
Hardware-based routing
Congestion control
Quality of Service enforcement
Temperature sensors and voltage monitors
Port speed auto-negotiation
Full bisectional bandwidth to all ports
Hot-swappable fan trays
Port and system status LED indicators
RoHS-5 compliant