Presentation
Primary tabs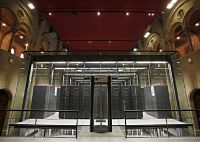 The Barcelona Supercomputing Center-Centro Nacional de Supercomputación (BSC-CNS) was accredited as Severo Ochoa Center of Excellence (SEV-2011-0067), the award with which the Spanish Ministry recognizes leading research centres in Spain and international reference organisations in their respective areas. This award confirms the BSC as one of the world's leading centres in supercomputing.
The Severo Ochoa evaluation committee stressed the unique position of the BSC as a centre that provides supercomputing resources to the scientific community and in turn has its own research lines (computer science, life science, earth sciences and engineering applications), which are essential for the progress of science and engineering and also have a great impact on society.
In October 2015, the Spanish Ministry of Economy and Competitiveness once again awarded BSC the Severo Ochoa Centers of Excellence accreditation (SEV-2015-0493), following its assessment of the centre's success during the previous period and of the strategic research plan presented for 2016-2019. The board's Scientific Committee commended BSC on 'having positioned itself as a leading supercomputing centre of international renown' and for its 'excellent results in the period 2011-2015. The centre's research programmes in Computer Architecture, Parallel Programming and Supercomputing are first class, matching the standard of the best centres in Japan, the United States and Europe'.