PRACE Training Course: Performance Analysis and Tools
NOTE: PATC courses do not have registration fee. You need to fill in an Application form.
You can now access the lecture notes under "Materials"
Date:
Monday, 21 May, 2012 (All day)
to
Tuesday, 22 May, 2012 (All day)
Objectives:
The objective of this course is to learn how Paraver and Dimemas tools can be used to analyze the performance of parallel applications and to familiarize with the tools usage as well as instrumenting applications with Extrae.
Learning Outcomes:
The students who finish this course will have a basic knowledge on the usage of the BSC performance tools. They will be able to apply the same methodology to their applications, identifying potential bottlenecks and getting hints on how to improve the applications performance.
Agenda:
Course Outline:
Day 1
Session 1 / 10am - 1 pm:
1. Introduction to Paraver
2. Paraver guided demo
Lunch Break 1pm to 2pm
Session 2 / 2 pm- 6 pm:
Paraver Hands-on
Day 2
Session 3/ 9am- 1 pm:
1. Advanced analysis
2. Introduction to Dimemas
3. Dimemas guided demo
Lunch Break 1pm to 2pm
Session 4 / 2 pm- 6 pm:
Tools Hands-on
END of COURSE
Target group:
Level: INTERMEDIATE: for trainees with some theoretical and practical knowledge. (All courses are designed for specialists with at least finished 1st cycle degree)
Venue:
The course will take place in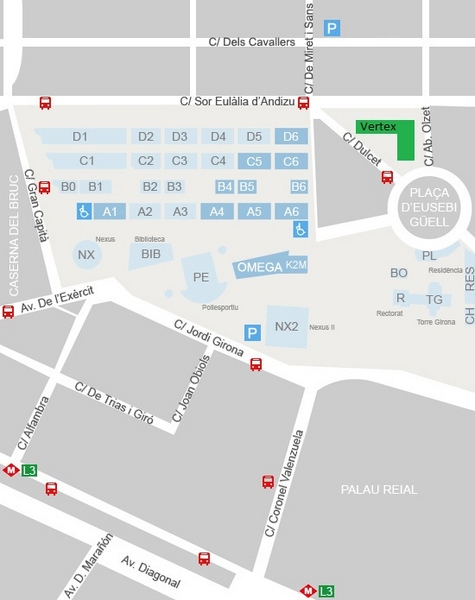 Barcelona Supercomputing Centre,
within the UPC Campus Nord premises,
Vertex building, room 214.
How to arrive?:
From the Airport
Barcelona airport is at 12 Km from the city. More information about Barcelona's airport: www.aena.es. You can arrive with different transport methods from the airport to BSC:
By taxi
In T1, you will find a taxi stand in the arrivals zone (P0) and in the Barcelona-Madrid air corridor; in T2, opposite terminals T2A, T2B and T2C. If they are available, they will show a green light with the text LIBRE or LLIURE (it means "available"). You can check fees at www.taxibarcelona.cat.
By car
If you rent a car from the airport (T1), please leave "El Prat del Llobregat" and take C-32B. Continue along this route and head towards Ronda de Dalt / Lleida / Girona. Close to Barcelona, take route C-32 passing close to Cornellà del Llobregat and L'Hospitalet. Take B-20 and take Exit 10 called "Carretera d'Esplugues". Take the street called "carrer del Gran Capità" and turn left towards Jordi Girona street.
By train
There is a Renfe suburban train. The airport station is situated opposite of terminal T2, and is connected to this terminal via an airbridge. There is also a Bus transit service between the Rail station and T1. From the airport to Barcelona Sants there is approximately 20 minutes journey. From this station, take the L3 (green line) in direction to "Zona Universitaria" and get off on the "Palau Reial" stop. You will have a 5-minutes walking distance to arrive to BSC. (www.renfe.es)
By Bus (Aerobus)
Airport stops: Bus stops at Terminal T1 and T2 (A, B, C)
Downtown stops: This line ends at Plaça Catalunya (city center). Once there, you may take L3 of the underground to "Palau Reial" or "Zona Universitaria" stations.
From the City Centre
Campus Nord of Universitat Politècnica de Catalunya is located at the North-West corner of the city, at the end of the Green Line (L3) of the underground. In order to reach the Campus by public transport, it is advisable to use the underground. There are two stations near to the Campus, "Zona Universitària" and "Palau Reial", both on L3.
Cost:
There is no registration fee. The attendees would need to cover the expenses for travel, accommodation and meals.
Requirements:
The trainees are expected to come with their own laptop. If you develop applications you can also bring your code to use it on the hands-on sessions.
Recommended accomodation:
Please follow the link for map of some local hotels.
Contact Us:
prace [at] bsc [dot] es (CONTACT US) for further details about MSc, PhD, Post Doc studies, exchanges and collaboration in education and training with BSC.
For further details about Postgraduate Studies in UPC - Barcelona School of Informatics (FiB), visit the website.
Sponsors:
If you want to learn more about PRACE project, visit the website.