MareNostrum
BSC-CNS hosts MareNostrum, the most powerful supercomputer in Spain. In March 2004 the Spanish government and IBM signed an agreement to build one of the the fastest computer in Europe. In November 2006 its capacity was increased due to the large demand of scientific projects. MareNostrum increased the calculation capacity until reaching 94.21 Teraflops (94.21 trillions of operations per second), doubling its previous capacity (42.35 Teraflops). It had 4.812 processors and afterwards it had 10.240 processors with a final calculation capacity of 94.21 Teraflops.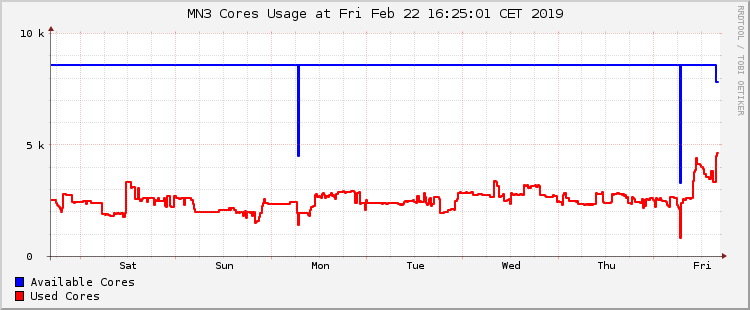 At June 2013, MareNostrum was positioned at the 29th place in the TOP500 list of fastest supercomputers in the world.
With the last upgrade (2012-2013), MareNostrum has a peak performance of 1,1 Petaflops, with 48,896 Intel Sandy Bridge processors in 3,056 nodes, including 84 Xeon Phi 5110P in 42 nodes, with more than 115 TB of main memory and 2 PB of GPFS disk storage. At June 2013, MareNostrum was positioned at the 29th place in the TOP500 list of fastest supercomputers in the world.
MareNostrum is managed by the Operations team that takes care of its availability, security and performance. An important task of this team is to support scientists in the usage of MareNostrum, as well as to help them to improve their applications to get better research results.
Marenostrum is also part of the PRACE Resarch Infrastructure as one of the 6 Tier-0 Systems currently available for European scientists.

Access to MareNostrum is possible through either national RES, Application Form and european programmes PRACE, Application Guide.
These resources and expertise are not just available remotely. Spanish scientists as well as European ones can visit BSC-CNS through the available mobility programs in order to work together with our experts in supercomputing and learn more about how to improve their work and research results.
The RES area (Spanish Supercomputing Network Area) provides access to information and user control of different activities. This is the new procedure to assign users to an activity, to identify resources, to submit new applications, etc.
The list of accepted activities for 2nd period 2016 was published on June 27th.
These activities will start in July 1st, 2016.

The deadline for 2016 3rd period applications is on September 13th 2016 at 11:00 AM (Barcelona Time).
Mobility programs: BSC-CNS promotes mobility programs for scientists to stay for a period of time in one of the leading research centers in Europe. You will be able to use our resources and exchange know-how with Spanish scientists.
System Arquitecture: Here you will find a technical description and documentation of the whole system including storage servers, computational blades, high speed network, switches and so on.